The blizzard has started in earnest. It has been lightly snowing since last night but about an house ago the snow got serious. I can't believe that I still see neighbors going up and down the street. I'm believing that soon everyone will be safely inside their homes and off the road.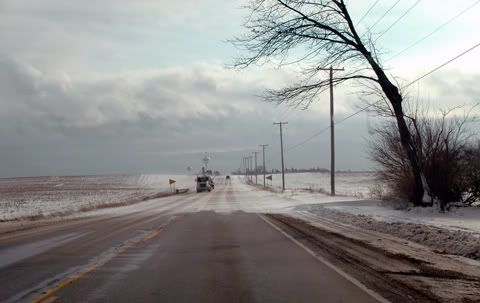 Here in the American midwest we are certainly accustomed to large amounts of snow but there are events that combine to make horribly dangerous conditions. One is wind and one is ice. Luckily it seems we will be spared the ice but the wind is already picking up to dangerous levels. What happens is the wind blows the snow across the open fields and dumps it on the roads in incredible amounts. A road can drift shut within 5 minutes of a snowplow passing through. It happened to me a couple of weeks ago in conditions not nearly as severe as today's.
The other problem is that ice and heavy snow can bring down the power lines. I can tell you from experience how cold the house can get just an hour after the power is lost. Very, very cold. That's exactly why we installed a natural gas powered generator a year ago. We can't have a 90 year woman in an unheated house that's dipped to less than 30 degrees. Water pipes freeze, things get ruined and it's not a pretty sight.
The generator is a large unit that sits on the side of house, next to the air conditioner. It's hooked up to the natural gas power line and has it's own large eletrical panel in the basement. When the power cuts off, the generator is signaled, the gas starts flowing, the engine starts and all the electric switches to that panel. It's large enough to run just about everything in the house although, not wanting to tax the system we turn all unessentials off allowing easy operation of the furnace and refrigerator. They aren't cheap but neither is the damage that can be done by loss of power.
Having said that, the Other Mother is the ONLY one in the house that hasn't caught this terrible upper respiratory mess that's going around. It knocks the life outta you. Luckily, our son is on the other side and he can be in charge of trying to keep up with the snowplowing.
We've got plenty of food, some wood for the fireplace and some brandy to keep us warm. For those of you in other parts of the country that are in the path of this storm - BE SAFE!!! An extra gallon of milk is not worth risking your life.
For those of you who won't been affected by this storm (YOU know who you are!!), stayed tuned. I'll be giving you a blow-by-blow account and maybe some video too.
Check back frequently because I've got some interesting storm stories, including my experience through Chicago's worst ever snowstorm in recorded history.....1967 style.