Come along with me to a baby shower. It was given for my niece Heaether and it was wonderful. If you're planning a similar event in the future, I promise you that you'll get lots of ideas.
First of all, attention all lifestyle and creative magazines. You need to contact my sister and do a story on her. Seriously, she's got some terrific ideas. Wait until you see!
My sister is very much into vintage things. She lives in a 1950's ranch house and has filled it with wonderful, period things. Her and I both collect hammered aluminum pieces. For the baby shower she found vintage vases and plant containers from back in the day when moms stayed in the hospital for more than 24 hours. The Other Mother remembers being in the hospital for one entire week when the Farmer was born.
Here's a vintage container filled with fresh flowers, welcoming us to the party. Notice it's sitting on one of her hammered aluminum pieces.
Of course there's lots of wonderful food. Here's some nice cheese and tasty crackers.
Crackers and dip displayed in a vintage bowl.
Here's Heaether, waiting to open her gifts. My sister is explaining that in lieu of play games we are going to put a kit together. A kit, you ask? Yes, she compiled all the items needed to put together birthing kits to be sent to midwives in Haiti. Women in Haiti are giving birth without benefit of sterile conditions. The kit included a piece of plastic sheeting, alcohol wiwipes, cotton string, a few other items and a receiving blanket for the baby. It was a great feeling to know that we were doing something to help women who could not deliver their babies in hospitals.
This is a diaper cake that was assembled using biodegradable diapers. It's a cute decoration that can actually be used later.
My sister found vintage napkins and used teething rings as napkin holders.
I baked miniature cookie bites for the dessert table. These were addicting!! No way to eat just one.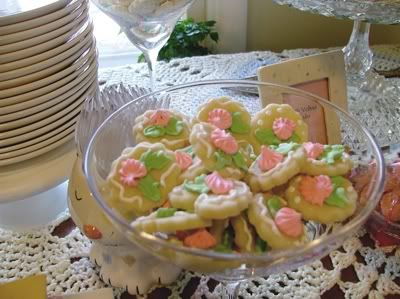 Here's the cake. It was so adorable. Inside is red velvet cake. As cute and wonderful as this cake is, I'll have to admit that rolled fondant tastes like wet cardboard.
Have some veggie dip. Notice my sister's collector's baskets on the left.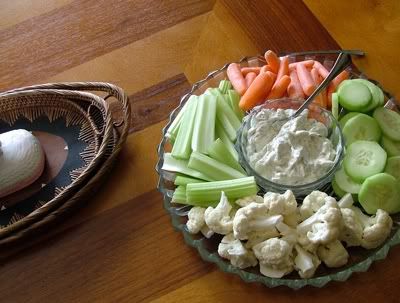 She used a crib dust ruffle to run along the mantle and found all these wonderful vintage dresses to display.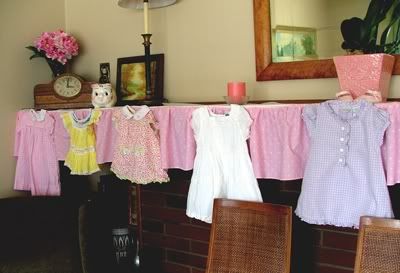 It was such a cute idea.
All the dresses were adorable except one. Here's my sister-in-law and my niece Kim sitting in front of the scary clown dress.
Everybody that walked in had the same reaction......scary clown!!
This is the cutest idea of all. My sister slipped the salt and pepper shakers into vintage crocheted booties.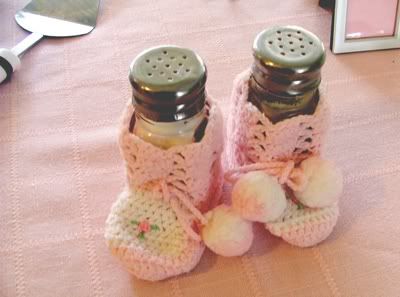 Remember when I baked those rubber ducky cookies? Here they are, individually wrapped and sitting in a basket for guests to take as a party favor.
Thanks so much for coming along. I hope you got some ideas. My niece kept exclaiming, "My mom created the cutest baby shower, ever!"