I've got a couple confessions to make. Number one, I'm a very messy cook.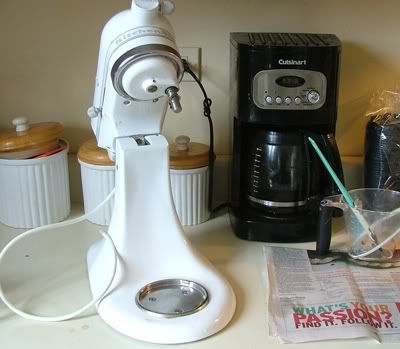 It's amazing to me when I see those TV chefs cooking and baking in a kitchen (and a white apron) that is spotless. How do they do that? The minute I turn on the Kitchen Aid there's a cloud of flour and cocoa floating around.
Confession number two - I've never had a whoopie pie. Seriously, how did that happen? I must lead a very sheltered midwestern life. I've eaten my share of Moon Pie in my day but never one single whoopie pie.
Several food blogs have featured them lately and the Sunday Chicago Tribune published a recipe, so I thought it was time to bake some up and taste test them.
The best part of baking is the clean up. You know, the part where you get to lick the bowl.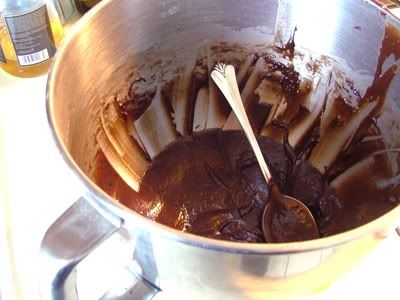 The first batch of whoopies out of the oven were fairly uniform in size, at least there were matching pairs.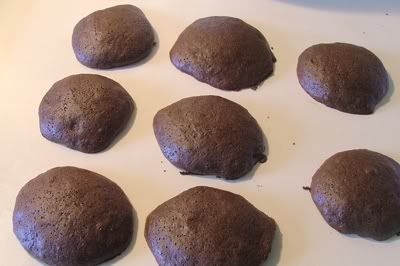 But soon things started to go awry.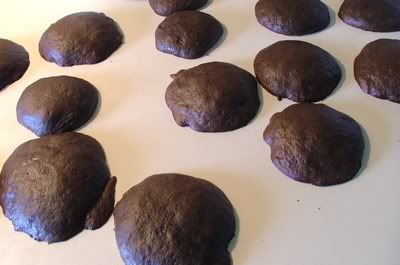 Towards the end the whoopies were getting quite large and misshapen. Shades of blue/green alien scones.
I wasn't too sure about the filling because I'm not a big fan of Marshmallow Fluff.
But it's combined with butter, vanilla and powdered sugar. The result? HEAVEN.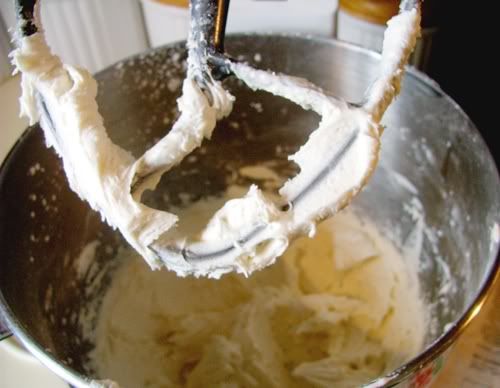 Here's one of the more decently shaped whoopie pies. The verdict? Delicious! The whoopie part is more cake than cookie and it's barely sweet, leaving that job to the creamy white filling.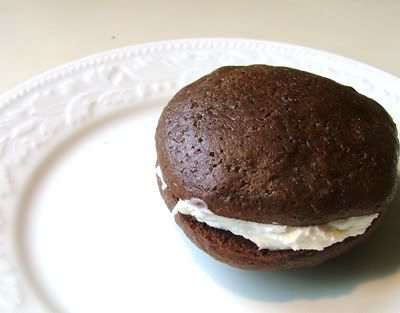 I've heard that they are very big in Maine so perhaps I'll move there and live out my days eating lobster and whoopie pies.
Oh, I forgot. Maine gets the same winter weather as Illinois so maybe not!
How about you? Have you had a whoopie pie? Do you love them?
Sorry, I can't share the Tribune's recipe without permission but here's Martha's version:
MARTHA'S WHOOPIE PIE