ALERT - If you are squeamish you might want to cruise along to the next blog. Nothing much affects me except for those thousands of tarantulas that I encountered crossing the road late one night in west Texas!
Mowing has become a big problem because with all the late snow and the biblical rainstorms that followed the grass grew crazily and rain upon rain didn't allow a moment for mowing. Now it's incredibly tall and clogging up the tractor.
I'm doing my best, carving off small portions and not trying to take a wide swath. As I reach the west side of our property I notice something out of the corner of my eye. Remember, I studied anthropology and archaeology so I can spot a bone from 50 yards.
Bones! Big bones. Where's Temperance Brennan when you need her? Those of you who don't understand the reference - Temperance is the lead character inn a number of books and a TV show. She's a forensic anthropogist but she wouldn't be called in on this case because these are large animal bones and not human. Phew!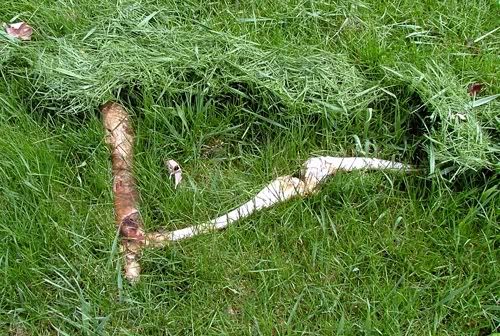 It's a hind quarter or fore quarter of a deer. I'm not much wanting to find the rest of the carcass on my property because I don't want to dispose of something that large. This I can deal with..... uh, er... actually I can get the Farmer to deal with it.
I bang on the window and let him know his presence is required in the yard. He's not much wanting to be interrupted because he's working on some indoor projects and he's crabby.
We both gaze upon the remains and say a prayer for Bambi's mom.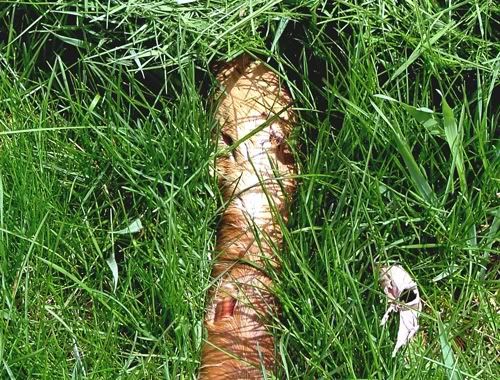 This was a full grown deer but probably wounded or ill, allowing the coyotes to take it down.
The Farmer picks up the remains using a large pair of pruners, a multi-tasking tool.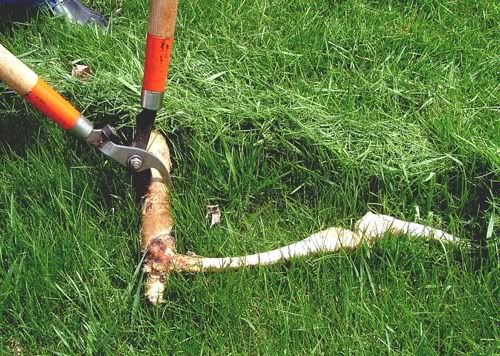 At the recent blog get-together one of the women talked about the romanticization of country living. The romantic notion never takes into account the fact that your chickens will be killed by foxes or that coyotes will drag the remains of their evening meal into your yard. It's the natural order of things. Life and death. Food chain.
The only creatures with no excuse for living are tarantulas. Oh, and Boxelder bugs.