Did you guess that we were going to the Boho Ball at Anne Marie's Nada Farm barn sale? You were correct. Thanks for the clever guesses. Belly dancing lessons? Seriously? That's a mental image no one needs to have.
I was crazy for the dangling earrings because these are not something I would normally wear. I was even more crazy for the necklace.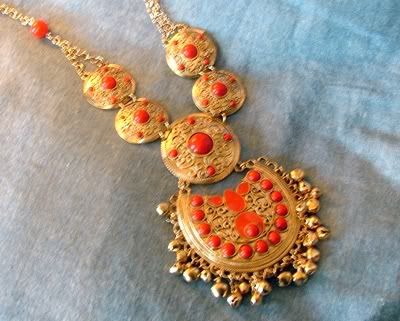 There are actually very good representations of jewelry I owned back in the day. At the bottom are tiny jingling bells. Both pieces are from Forever 21. I certainly can't fit into any of their clothing but their jewelry and acessories are fun and affordable.
Let's go to the Boho Ball.
Anne Marie and Jennifer Rizzo always put together a fabulous event. It's such a pleasure to be taken away to a beautiful retreat. The theme for this sale was Italian Boho. On Friday night they host a champagne preview ball and guests are encouraged to dress for the occasion.
This is a very popular event and people come from across the country to attend. We have to park a little distance down the country highway. The first thing you notice as you step out of the car is the silence.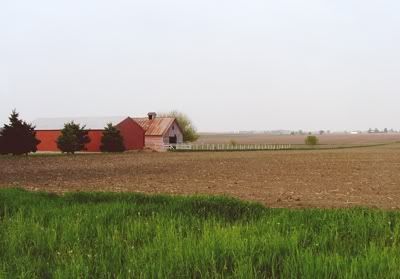 It's dreamy peaceful out here on Illinois farmland. But being Illinois the wind is blowing, creating a soft white noise as the air moves through the grass. The fields have just been planted and soon green sprouts will be appearing. Those are the outbuildings at Nada Farm.
As I said, Anne Marie and Jen manage to put together a beautiful venue to shop and visit with friends. Throughout the space they've put burlap banners. This is the entrance and the wind blown banner says welcome.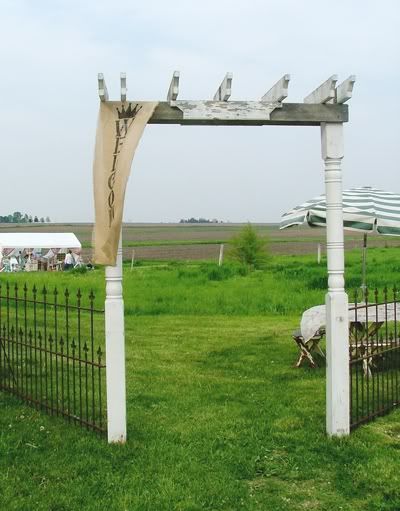 As promised they provided a bloggers tent for people to meet up talk about whatever strikes their fancy.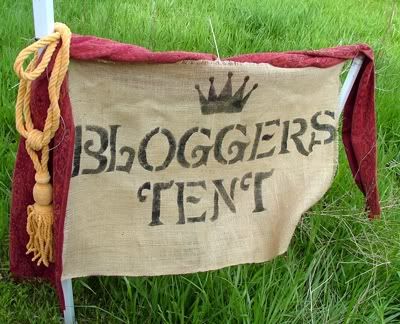 The tent was so beautifully appointed, it's a wonder anyone ever left. There was an antique iron daybed layered with lucious fabrics. Hanging from the ceiling was a large colorful parasol and another parasol next to the daybed. Under the table they've layered persian rugs.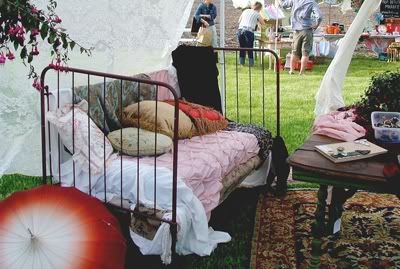 On the table were lucious chocolate candies and Jen made for us. I'll ask her for the recipe.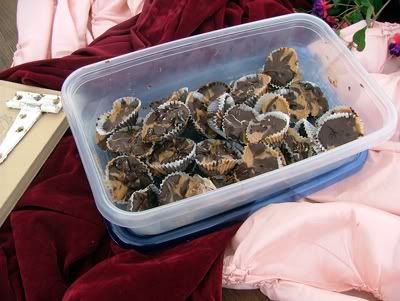 I can't get enough of this image. How about you?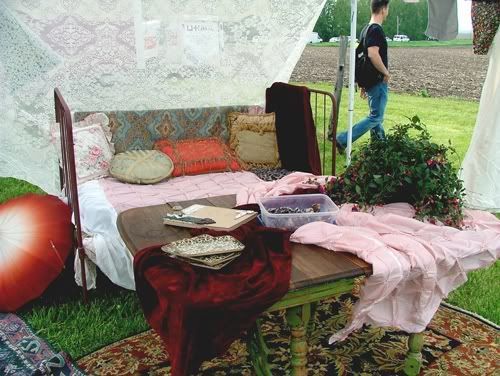 The sale is so popular that they've added vendors and spilled out of the barn onto prairie. The evening was beautiful but the wind made it a challenge for the outside vendors. At the recent bloggers get together I met Carrie from the Hot House Market. Her and husband Don travel all over the place selling their wonderful wares. This weekend they'll be at the Randolph Street Market in Chicago. They're based in Indiana.
HOT HOUSE MARKET
Here's a peek at their booth. I love the mid-century farmhouse esthetic. Lots of cool chairs, pillows, and aprons! You know I'm crazy for aprons. They even had a couple of old fashioned clothes pin bags that would hang on the clotheslines.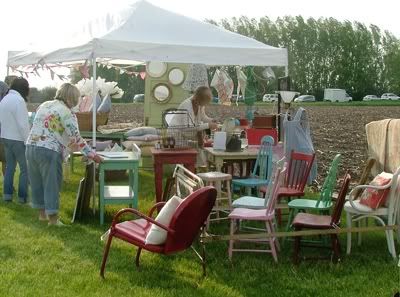 Here's a display put together by one of the other vendors.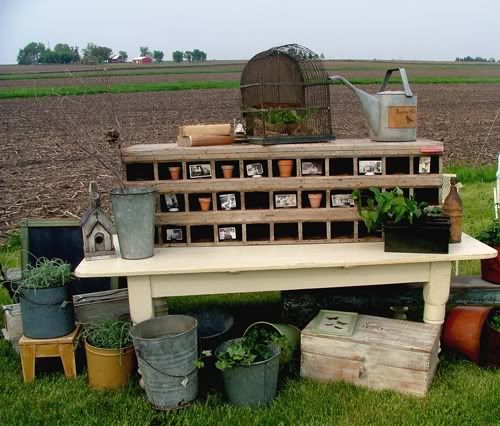 The truth is that I don't usually buy anything at these sales because I'm in that "divest yourself" stage of my life and the thought of bringing anything else into this house gives me nightmares. I did however, make a beeline for this cubbyhole piece.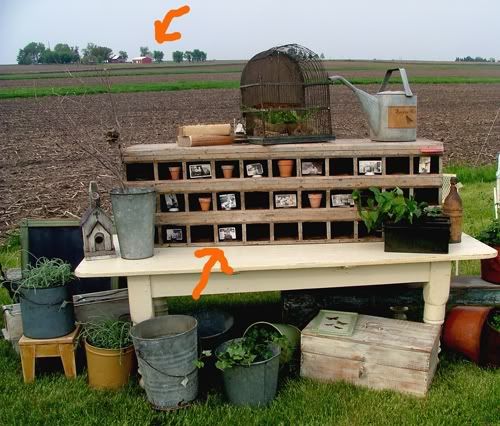 Unfortunately it was already sold. Also notice the other orange arrow. I want to point out the general distance between farms in this area. That's Anne Marie's nearest neighbor. When you get further west of here, closer to the Mississippi river the farms are two to three times that distance from each other.
There was lots to love in this booth.
And look at this beautiful display. People are so talented. The blooming foxglove had me swooning. My friends in the deep south are green with envy because we can grow some fabulous perennials here in the midwest that just are a no-go in the south. I have a hosta that measures 6 feet across!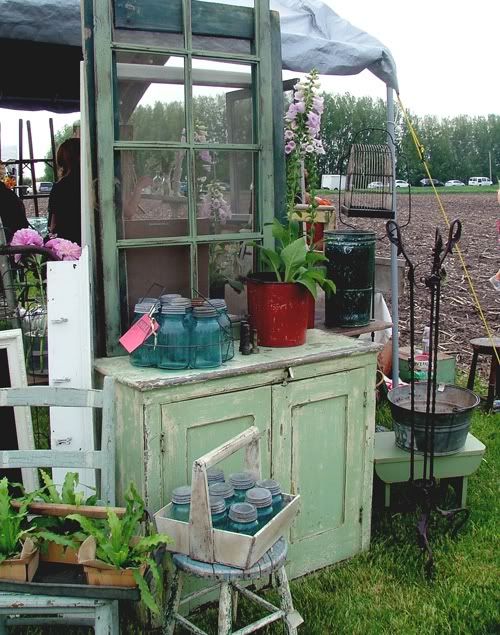 More vendor goodness. This tent was draped with some gorgeous fabric. My question to you..... do you like the trend that seems to be popping up all over the place - painting furniture turquoise? I'm not a big fan.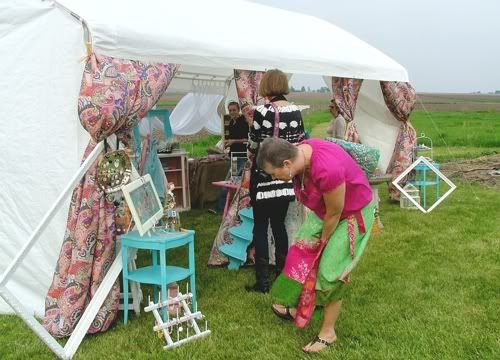 I've got lots more pictures. Come back tomorrow and we'll go inside the barn, meet Fifi and poke around looking at the treasures. I'll also announce the winners of the contest. See you then.
NADA FARM LIFE WITH ANNE MARIE
JENNIFER RIZZO