My neighbors always seem to find the most interesting things to do. Two weeks ago we attended a cooking class together and it was so much fun. After 40-something years of cooking it was interesting to learn something new. The class was focused on Mexican street food, which is one of my favorites.
Think street vendor food, a hot dog cart with a twist. The idea is to create small, handheld morsels. This was one of the only times I've worked with masa harina and I've been wanting to learn how to handle it so that I can eventually make some tamales. They are time consuming but so delicious.
The Country Garden Cooking School is held in a small brick dwelling that was rescued and moved to this location.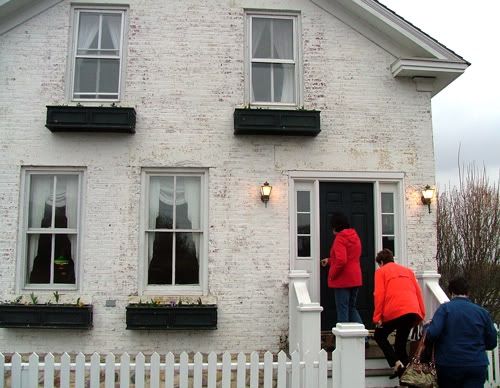 The bricks were handmade back in the 1800's by one of the Durant brothers. It's a very tiny home but extremely cozy. It was home to elderly nuns who decided to donate the building to someone who would lovingly restore and use it for teaching purposes. The nuns were in a teaching order.
Here's Elizabeth, our instructor, who was explaining the process. We were to break up into teams and each tackle one element of the menu.
x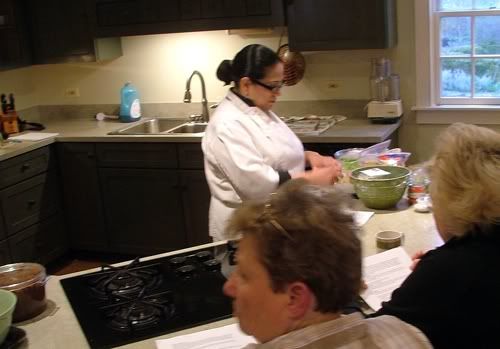 Sorry, no pictures of the cooking in action because we were so busy mixing and frying that I didn't have a chance to snap a picture, but here's the final product.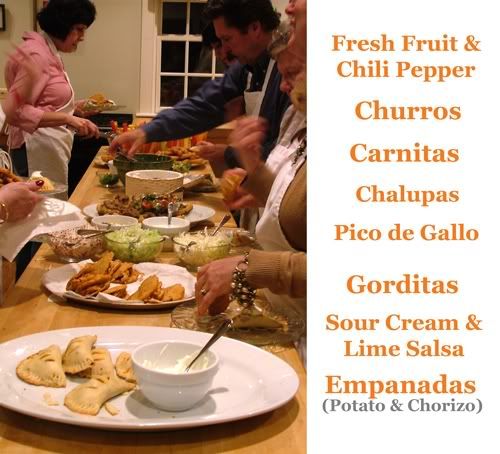 My team members were Lynn and Jan. We made the Gorditas, which means "little fat ones". Here's what I learned about masa. It's impossible to mix it using a spoon or pastry cutter, you must just dig in and mix it well with your hands. You'd be there all day with a pastry cutter.
Here are the potato and chorizo empanadas. They were delicious.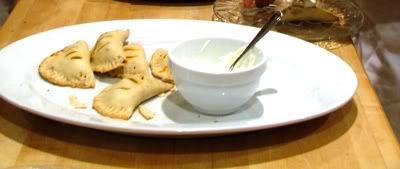 Do you see that white bowl on the platter? That was my favorite of all, and the simplest! It's called Simple Sour Cream and Lime Salsa. When I think of salsa, I think of tomatoes, onion and cilantro but I guess it means accompaniment. Mexican sour cream or crema, is thinner than the sour cream that's sold in our grocery stores. It's more on the order of creme fraiche. Drizzled over the food added a fresh taste.
After all our efforts we dug in to try a meal, Mexican street food style.
Here we are eating the fruits of our labors. Unfortunately, I caught them mid-bite so I've cropped out their heads. Wielding the cropping tool gives me Red Queen powers! Off with their heads!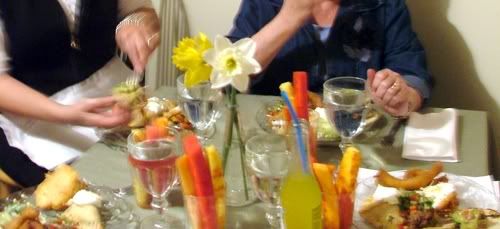 Speaking of fruit, none in our group was a big fan of the fruit dusted with chili powder. It was HOT, HOT, HOT and even the cool juiciness of the fruit could put out the fire.
I hope you enjoyed visiting the cooking school. I encourage you to look for a similar place in your area, or start one yourself!
I'm not sure whether the recipes she provided are copyrighted but the salsa recipe is widely available so I'm going to include that one.
SIMPLE SOUR CREAM AND LIME SALSA
1 cup crema or sour cream (crema is available and hispanic grocery stores)
1/2 tsp. lime zest
1 tablespoon lime juice
snipped fresh cilantro
In a small bowl, combine sour cream or crema, lime zest and lime juice. Sprinkle mixture with cilantro and serve.
If you live in the greater Chicagoland area, check out the school and sign up for a class.
COUNTRY GARDEN CUISINE COOKING SCHOOL
Check out the photos of that very beautiful historic home. Owner Penny Newkirk has created something very special.