Don't you just love a potluck dinner?
I can remember loving these events as far back as my memory will take me. My Grandma Blanche helped organize potlucks at the local Grange Hall in northern Wisconsin.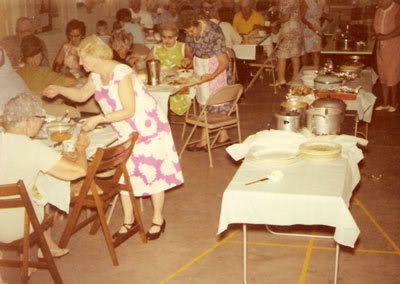 As I've mentioned before she was a little firecracker, barely 4 feet 10 inches tall. That's her leaning over in the hot pink and white dress. Look at the lady behind her in the half apron. Gotta love aprons as much as you do potlucks.
The beauty is that everyone brings their best dish, lovingly made from their best (and sometimes guarded) recipes. After awhile you begin to look forward to these dishes and if the person brings something different, chaos ensues!
Here's just part of the spread at my neighbors recent pig roast.
This was the snack station and pretty soon this table was groaning under the weight of good things. Layered taco dip, chips and dip, deviled eggs, cowboy caviar and tortilla chips were just some of the goodies.
The dining room table was loaded down with desserts and the big island in the kitchen was covered with the pork, beans and other goodies.
It was an eating and visiting fest. I love when people come together over good food and I'm so thankful for neighbors who host these parties.
But...... can you believe in the county where my sister lives potluck dinners are ILLEGAL! The County Health Department has made it illegal to have a potluck dinner with homemade food. This applies to events that are advertised to the public. A church could have a poluck if the information was kept inside the church walls and not publicized in the newspaper or any other way.
Call me crazy.... but that's CRAZY, and probably un-American. There's nothing more iconic in the midwest than a potluck dinner. I'm pretty old and I've never heard of anyone even getting ill from
potluck food
. The really bizarre thing about this is that my son and daughter got extremely ill after a potluck dinner but it was from the store bought milk that contained salmonella. This was a big, big story in the Chicago area and thousands of people were ill and some hospitalized. Remember, NOT from the potluck food but the store bought milk.
Call me foolish but I'll take my chances and eat that delicious potluck food.
Is there a special dish that everyone expects you to bring to these events? Are there areas that don't have potlucks. How about Europe ..... do my overseas readers enjoy potluck dinners or is this a north American thing?