One day I noticed a bicycle leaning against a sign on the side of the road not far from my house. It wasn't a terribly unusual sight because there's a small roadside restaurant to the left on the other side of the road. If I thought about it a little harder I would have realized that if the owner was stopping in for a hot dog they'd chain their bike up outside the restaurant and not across the road.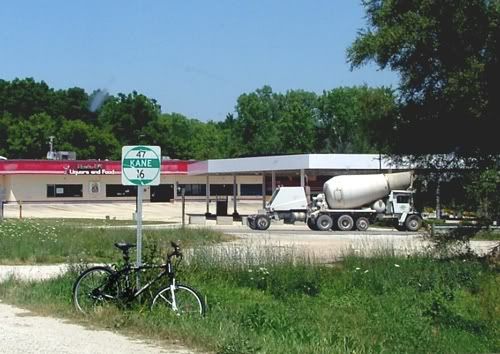 Every time I drove across this intersection I looked for the bike.
Yep, still there. One week. Two weeks. Three weeks. Four weeks. I lost count, it's perhaps five or six weeks now. The bike is still there. I'm sure in an urban area it would have disappeared in a day or so, the chain cut with bolt cutters.
I'm left wondering who left it there and why they haven't returned to retrieve it. We'll see if it's still there when the snow flies.
The really goofy thing is that today I spotted the bike and a short distance on the side of the road on the left was a big patio umbrella, fully extended, just lying on the side of the road. Now this isn't something that flew out the back of a truck fully extended. Is someone goofing on us? A bizarre art installation perhaps?