Do you remember that vintage movie? If not, please try to rent it because it's a funny look at what disasters can strike a vacation.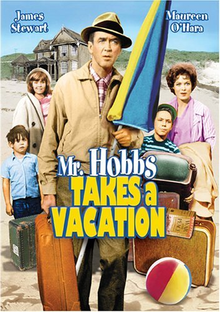 Did we have a Mr. Hobbs vacation? Yes, we did!!
Consider this a vacation postcard without the photo. The Other Mother has moved a ton of furniture into my sewing room because she's having her carpets cleaned. She's jammed stuff into the nook where my old computer sits. This is the machine that I use to process my photos. Darn.
Some of you might have guessed we went south for a week. It was HOT but it was equally hot at home too. We rented a house that allowed pets (there were only two available) and from our experience these pet-friendly houses are quite basic. The home had been somewhat remodeled but the laminate floor had a definited downward slope in the kitchen. Thankfully I did not spot a single spider in the place.
The bathroom had an odd shower that required you to walk into before you could turn the water on, meaning that you got a blast of cold water. Yikes. This bathroom also had another problem. The sink was missing the drain stopper. This is the kind of black hole that swallows beautiful diamond rings or expensive dental work.
What do you think happened? Do you think my diamond went down the drain while I was washing my hands? NO....... the Farmer lost his partial bridge when he was brushing it clean. That's over $1,500 of dental work down the drain. OOOPS.
He immediately shut the water off and forbad anyone from using the sink. A quick trip to the hardware store and $14 dollars later he had a pipe wrench in hand and went to work retrieving the bridge. Can you imagine it sitting in the bottom of that drain? Yuck.
Plunk.... out it fell and I went to work sanitizing it without melting the plastic because we didn't want to compound the disaster.
Disaster struck again when the Farmer went to put the plumbing back together. The plastic pipe cracked. Back to the hardware store and a few bucks later all was well. For awhile, that is.
Food poisoning followed soon after. More about that later.
- - - - - - - - - - - - - - - - - - - - - - - - - - - - - - - - - - - - - - - - - - - - - - - - -
Thanks to all my loyal readers who have sent me postcards from their summer vacations. I feel like I've taken more than one trip this summer and that's a good thing.