It's the end of summer and I thought we'd have some lunch together. I apologize that it's not ready yet and that you're going to have to go shopping with me for the ingredients. You won't mind, it's only a short ride away.
Things have been crazy this summer with graduation parties and the Other Mother's 90th party to plan. The garden and tomatoes just didn't happen this year. Sigh.
It's no matter because the local farm wives have bounty to share. They set up self-serve stands near the roadside and you're invited to stop and shop for fresh produce and sometimes eggs.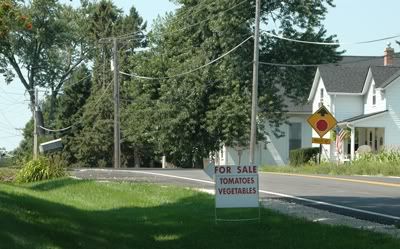 I wanted to include the above shot of the roadway with the cute little white parsonage to the right. It's a rental now because the pastor lives elsewhere.
The sign invites us to stop and have a look.
We need ingredients for our sandwiches.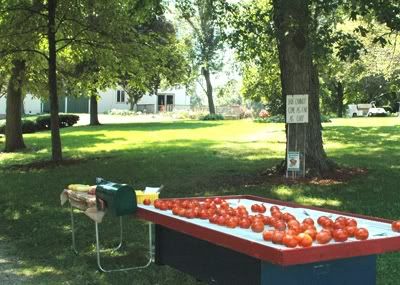 Hooks hanging at the end of the table hold bags for our produce.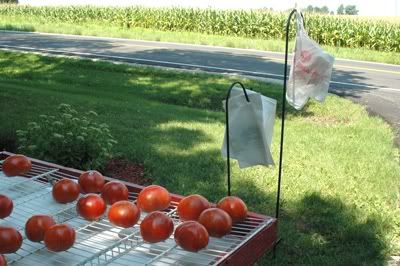 Can you believe how red these tomatoes are? The entire row and the ones in the basket are only 15 cents apiece. We're going to pick some juicy ones.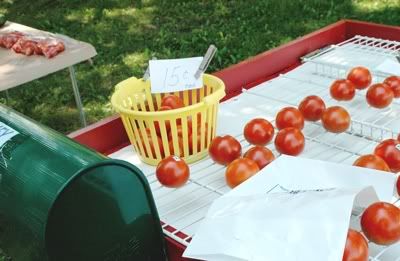 There's also some yellow squash and zucchini but we'll save those for another day. Four tomatoes ought to be enough. That's 60 cents which we'll put in the box.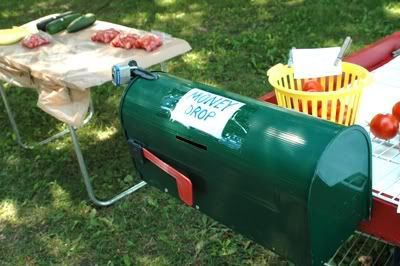 Now, let's go back to the house and make our sandwiches. First we'll rinse them off.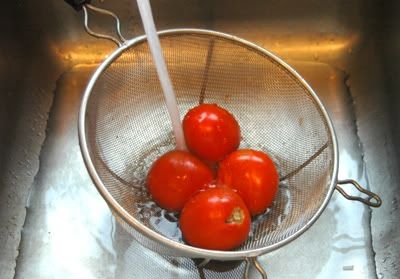 We're going to need some crusty bread, salt and good quality mayonnaise. I'm putting my Blue Plate to good use. We're making 'mater sandwiches.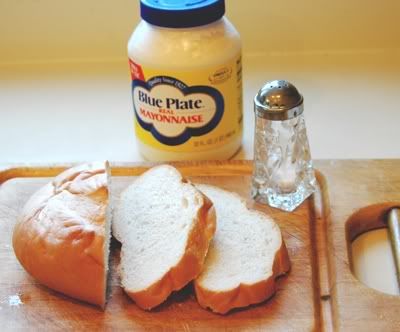 Nope, we don't need ham, beef, tuna or anything else, just home grown tomatoes.
Slice the tomatoes. Omigosh, can you stand this? There's not a store bought tomato anywhere that resembles this.
Give them a good dusting of salt, spread mayo on the bread. It's tomato glue, to prevent the slices from sliding out. It might not work because these tomatoes are very juicy.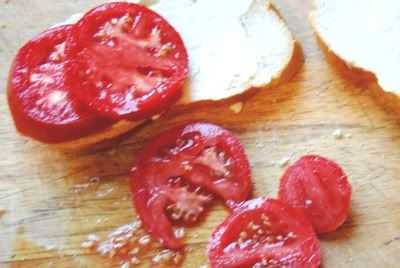 Lunch is served. 'Mater sandwiches with iced tea.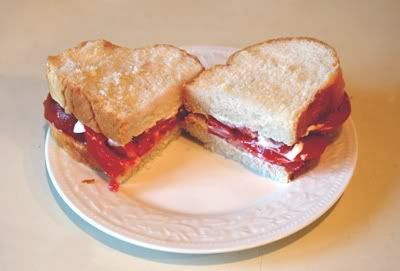 I hope you enjoyed our trip to the farm stand. There are big, more commercialized stands but I prefer the little tables set up by the roadside. I doubt that this woman makes a lot of money with her excess produce but you never know. It's what my mom used to call "egg money".