Finally, a day off work! I'm savoring every moment of the peace and quiet. Who would think that you could enjoy doing laundry and puttering around the house? I am doing just that. No TV, no radio or any other sound than the white noise of the new washing machine and dryer. The puppies are even cooperating by not barking when they hear the sound of the school bus. Somehow they think that no one is allowed to walk down
their
street. Crazy dogs.
The Other Mother is s-l-o-w-l-y on the mend. Her doctor has order home health care to come in a couple times a week and some physical therapy also. Other than that she is somewhat laying low. But I know how she thinks!! I REALLY do. This may sound crazy but one of the first things I did when she was released from the hospital was to hide the mops!!! Like I said, I know how she thinks.
When the Farmer and I got home from work last night she was quite agitated because she couldn't find the mops! Someone is always home but the Son works 11 p.m. to 7 a.m. at the rehab center and so he sleeps all day and probably wouldn't hear if she falls on a slippery floor. The Occupational Therapist at the hospital warned her about her risky behavior and I assured him that the moment she was feeling better she'd attempt to jump back into her routines.
Mops are hidden. Foiled again.
- - - - - - - - - - - - - - - - - - - - - - - - - - - - - - - - - - - - - - - - - - - - - - - - -
Thanks for all the comments and good thoughts sent our way. They are greatly appreciated. I am consciously taking time for myself, doing a few creative things that soothe my mind and help me relax. Right now the number one thing is crocheting.
This needle art has a rhythm that allows you to create a white noise in your mind. The hands move, the yarn slides through your fingers, the pattern repeats, the colors please the eyes and it's all very relaxing. I'm producing piles and piles of things that I have no plan for. Eventually, when things slow down a bit I'll fire up the camera and list them on my Etsy shop, but for now I'm just working in hook and yarn just for the pleasure of it.
It's time to announce the winner of the Emergency Room Neckwarmer. This is the piece I finished in the hours I was waiting in the ER with the Other Mother. I always draw the name the old fashioned way...... written on paper and drawn out of my special 25th Anniversary brandy snifter purchased at Goodwill many years ago.
I'm including a crocheted flower pin to keep the neckwarmer in place.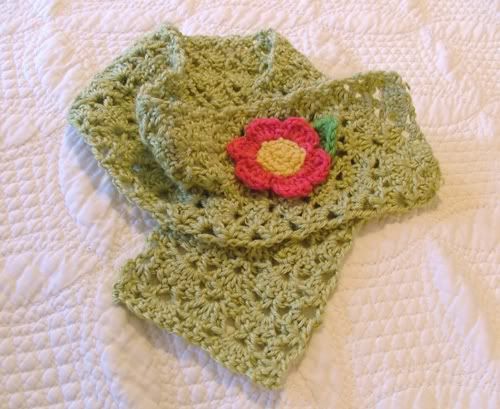 And the winner is.........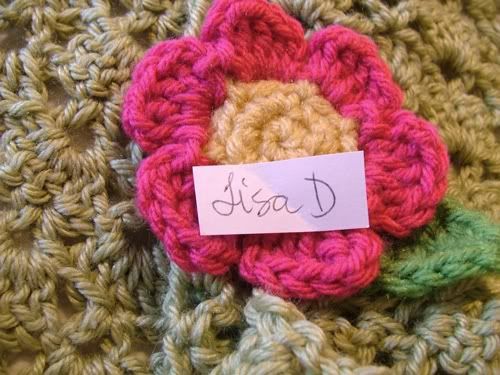 Lisa D.
Please contact me via e-mail (see my sidebar) with your address and I'll get this in the mail to you as soon as I have another day off.
For those of you who requested the pattern for this piece I'll dig around for it this evening and try to post it tomorrow.
Thanks for visiting with me today.