I lieu of a Monday Morning Staff Meeting I'm going to republish the tutorial for a rag garland. Yesterday I showed you photos of my Halloween version and the tutorial (originally published in 2008) is for a spring garland. But, never mind.... you can do this in any color scheme for any season.
I wanted to post it today to allow you to gather together the supplies so that perhaps you can work on one with the kids after eating turkey dinner!
- - - - - - - - - - - - - - - - - - - - - - - - - - - - - - - - - - - - - - - - - - - - - - - -
This is an easy project that the whole family can help create. I do these in all color combinations for different holidays. The Halloween garland can be especially fun as I include strips of sparkling black sequin fabric to give it a little extra bling. Unfortunately for this garland I wasn't able to find any pastel sequined fabric. I like to use crisp fabrics with some body. In addition I press them using heavy or extra crisp spray starch.
The first thing you're going to do is decide on the color palette. I just went into my stash and pulled some pieces of fabric in pink, blue, yellow and green. Decide what you want your main color to be because you're going to cut more of those strips. My main color is a solid pink.
Next cut the fabric into 8-inch strips using a rotary cutter with a pinking blade. This prevents everything from raveling. If you don't have a pinking blade just use the one you have. This is, of course, the adults only portion of the project. I'm sure I don't have to elaborate on the dangers of a rotary cutter and I won't relate the details of my own accident!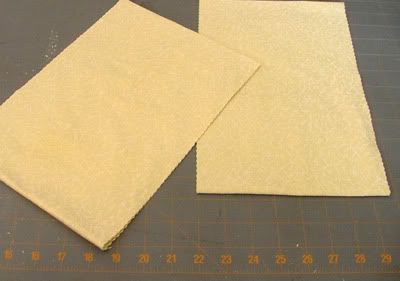 Then we'll cut those 8 inch pieces and cut the strips to a width of 1 to 1-1/4 inches wide. This doesn't have to be perfect. After cutting a few strips you should be able to eyeball it. Once you start cutting these strips it goes pretty fast. Just pile all the strips together.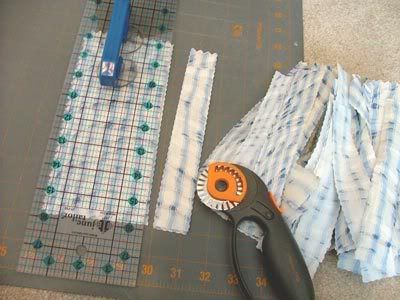 I used 275 strips to make a 6-foot garland. If you count how many you get from one of your 8 inch strips, you can quickly calculate your number. This, of course, depends on the width of your fabric. I used both 45 inch and 60 inch wide fabric. You can always cut more, or if you have too many you can use the extra strips to make a smaller garland to drape around a glass hurricane.
Now you're going to cut a length of jute or heavy twine. This gives a nice draping base for the garland. I cut the jute longer than the final desired length. Tie a loop in one end, leave the other end unlooped until you're finished.
Start tying on the strips. This is where the kids can get involved. Just loop over once, pull tight.....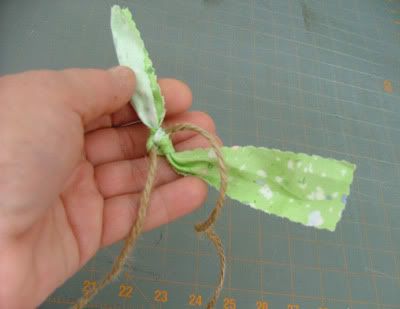 and slide the strip down.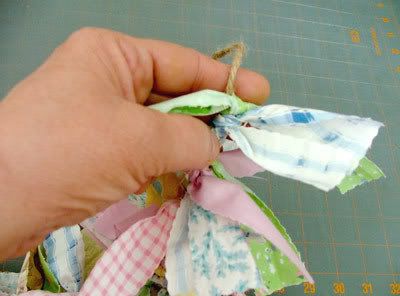 Keep tying and sliding. You don't need to follow any particular pattern, just make sure you're not bunching all the color together in one spot. The reason I cut more of the main color is that I like to put two or three strips of the main color followed by four or five multi-colored strips.
This garland was finished in one evening while I was watching TV.
I have a rough sawn cedar mantle and use straight pins to attach it to the wood. I've also draped them over the fireplace screen or across an entertainment center.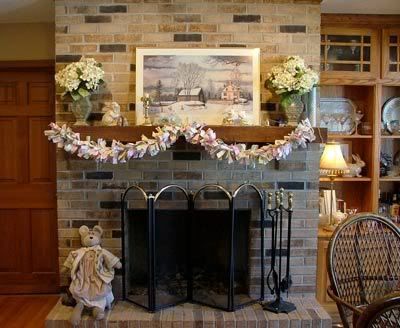 Have fun with this. It's so easy and kids love to do this!