I'll admit that I'm a recipe hoarder. There's no way that I'll ever be able to make even a small fraction of the recipes that are stashed away here At Home.
My grandmother was a newspaper and magazine clipper extraordinaire. Many of my childhood memories are of her propped up in her beautiful bed, clipping interesting articles and recipes. She probably never got back to half of those articles but it gave her great joy to set aside interesting things for a future reread or sharing with others.
I'm a big fan of the Good Eating section of the Chicago Tribune. I have stacks of them stashed in my pantry and when I'm totally bored with my daily repertoire, I dig into the stack for something different and interesting to cook.
CHICAGO TRIBUNE FOOD AND DINING
My biggest downfall is salty snack but occassionally (usually late at night) I get a taste for something sweet. As I get older this late night sweet tooth will not be denied. It got so bad one night last week that I went downstairs and made a batch of butterscotch pudding. From scratch! Did you realize that making pudding from scratch does not take much more time than the boxed variety. Plus, you will not believe the taste. Homemade pudding is as far from the boxed variety as the Earth is from Mars.
Wednesday's issue of Good Eating had a recipe on the cover that intrigued me. It smacked of a science experiment in the kitchen - a coffee cake "baked" in the microwave.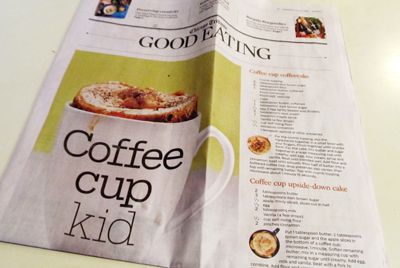 Around here the microwave is nothing but an appliance to heat up leftovers and cold coffee. Writer Cindy Dampier explains how to make small snacks in a coffee cup. She had stumbled across a recipe on the
and decided to try it for herself. The snacks are baked in a coffee cup and thus they're called Coffee Cup Coffeecake, Coffee Cup Upside-Down Cake, Coffee Cup Quiche and Coffee Cup Chilaquiles. My sweet tooth was kicking in last night and I decided to make the Coffee Cup Coffeecake. Follow the link to the recipe.

COFFEE CUP RECIPE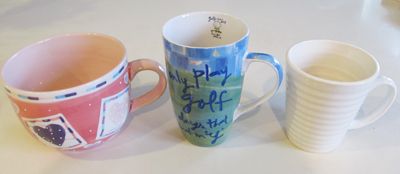 The recipe calls for a 12 oz. mug. I pulled these out and I decided on the larger one on the left. My thought process was that it would provide the largest surface area, allowing the coffee cake to adequately "bake" in the microwave. At this point I'm skeptical. Cindy explains that the microwave works well cooking small portions of anything that has a souffle type consistency. If you notice the recipe calls for self-rising flour. Drats, there's none in the cabinet. No problem, I just jumped on the internet and found a recipe for making your own. So easy.

SELF-RISING FLOUR

2 cups flour
1 tsp. salt
1 TBSP. baking powder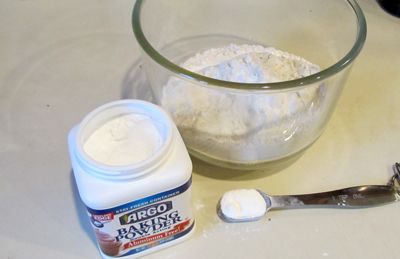 Mix the streusel topping.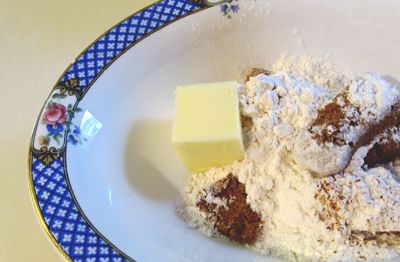 I love streusel.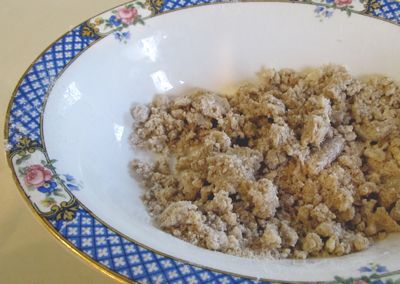 Mix up the cake batter. Put half the mixture into the coffee cup, dollop some preserves in the center and cover with the remaining batter.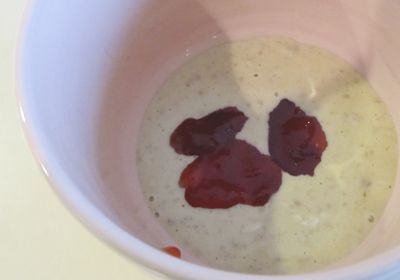 Bake in the microwave for 1 minute and 15 seconds. Here's the finished coffee cake.
It was delicious, the texture and consistency of a moist bread pudding. I wasn't fond of the strawberry preserves in the middle so next time I'll leave them out. Try this and tell me what you think.

I 'm going to include the recipe here too, because you never know when those newspaper links are going to die. I doubled this recipe because I didn't want to deal with 1/2 of an egg! I've got batter and streusel to make another coffee cup coffeecake tomorrow.


COFFEE CUP COFFEECAKE
Crumb Topping:
2 TBSP. dark brown sugar
2 TBSP. flour
1 TBSP. butter, softened
pinch cinnamon
pinch salt


Cake:
1 TBSP. butter, softened
1 TBSP. dark brown sugar
1/2 egg (1 egg lightly beaten and divided)
2 TBSP. sour cream
1 tsp. maple syrup
vanilla (a few drops)
1/4 cup self-rising flour
1/4 tsp. cinnamon
1 tsp. apricot or other preserves

For the crumb topping, mix the ingredients together in a small bowl with your fingers. Pinch together until crumbs form. For the cake, mix butter and sugar together in a large measuring cup until creamy; add egg, sour cream, syrup and vanilla. Beat until blended well. Add flour and cinnamon; beat until smooth. Pour half of batter into a buttered coffee cup, drop preserves into center, then top with remaining batter. Top with crumb topping, microwave about 1 minute 15 seconds.

Next I want to try the pancake batter mix featured in another issues of Good Eating.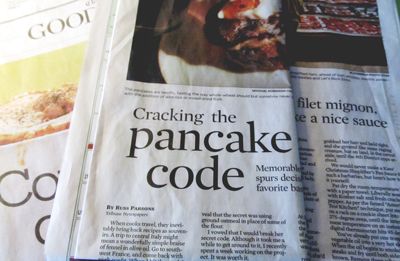 Have a great day everyone. Thanks for taking time out of your busy day to stop here "At Home".
NOTE: I can't even tell how I hate this new Blogger platform. I'm sorry if today's post is missing information or doesn't make any sense. I've simply run out of time to fix it toggling back and forther between "Compose" and HTML. Crazy!