I've been tagged by
Jeanne.
This a book tag and these are always alot of fun.
The rules are:
1. Link to the person who tagged you and post the rules on your blog.
2. Share seven random and/or weird book facts about yourself.
3. Tag seven random people at the end of your post, and include links to their blogs.
4. Let each person know that they've been tagged by leaving a comment on their blog.
My seven random book facts:
1. I was slow learning to read. I was a part of the baby boom generation which meant the school systems were overwhelmed by the sheer numbers of children that were approaching school age. As a result I didn't attend kindergarten, there was no room in the inn. That meant there were a number of us who started first grade at a disadvantage, and the classrooms were so crowded the teacher couldn't provide individual attention.
2. In fourth grade we drew names for a Christmas gift exchange. My wonderful teacher Miss Leifson drew my name and I was ecstatic. Surely the teacher would give a fabulous gift. I almost cried when I tore open the packaging to discover that she'd chosen a book. A BOOK!!! What kind of gift is that? It turned out to be wonderful. I begrudging read the book and found that it was enjoyable. Perhaps the young people in your life would appreciate it too. A Child's Garden of Verses by Robert Louis Stevenson.
3. My first book beyond Nancy Drew was The Good Earth by Pearl S. Buck. From that moment I was enthralled with reading and books in general. It was amazing to me that someone could transport you to another time and place using only words. I pay close attention to wonderfully skeletal sentences, which are those which pack a whallop with a minimal number of words.
4. For my entire life I've gone on reading jags. I'll read an interesting book and go on a jag reading everything written by that particular author. The same is true for subject matter. I got interested in what drives people who choose to climb Mount Everest, which inspired me to read every book ever written about the mountain and the climbers. I also read other mountain climbing books. I loved Gone With the Wind but unfortunately Margaret Mitchell only had one book in her.
5. My favorite author is Marjorie Kinnan Rawlings. It may seem like an odd choice but the moment I read Cross Creek I felt a kinship with her. It was as though she was an old friend. I've visited her Cross Creek home and it felt like home to me. \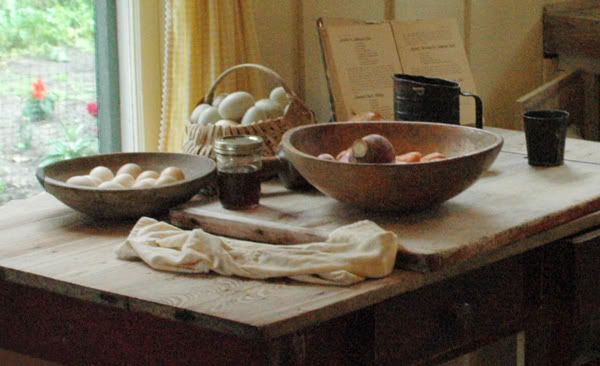 Marjorie's kitchen
Her typewriter was out on the porch facing the land that was once her beloved orange groves. I thought about negotiating with the University that maintains the property, in an attempt to allow me to write stories out on her porch, pecking away at her typewriter.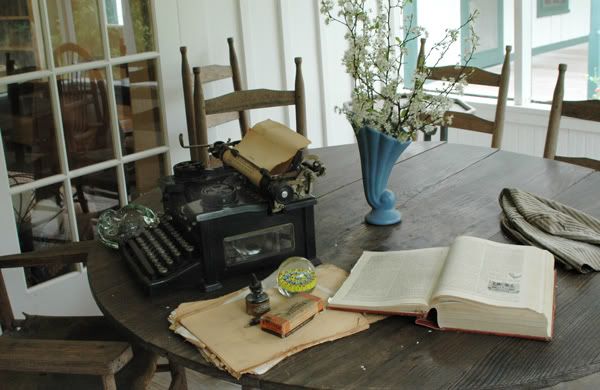 Marjorie's workspace.

6. There's no possibility that I could choose a favorite book because it changes over time as I change as a person. There have been many; The Good Earth, Gone With the Wind (read in one sleepless session), Atlas Shrugged, The Fountainhead, Stranger in a Strange Land, Little Women, Fahrenheit 451. Oh, and to Kill a Mockingbird which I am currently re-reading for the umpteenth time.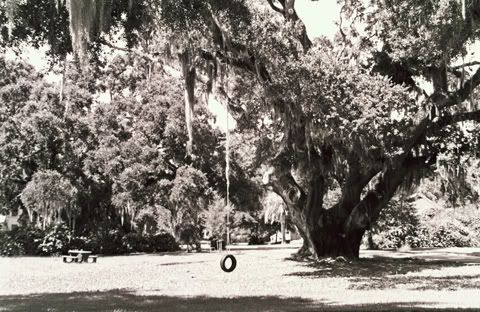 Can Scout and Jem be far away?
7. We converted our home office space into a library which holds about a thousand books.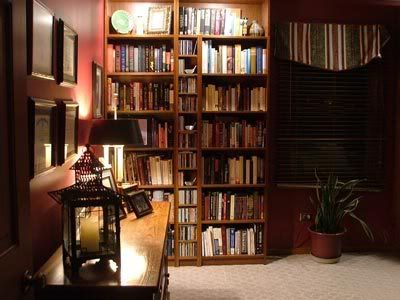 There are other bookcases scattered throughout the house and the total is probably 2,000 books. We love books!!! I feel like the woman in Fahrenheit 451 who stands in a pile of her beloved books and chooses to burn alive rather than part with them.
8. Since I love to break the rules I've added a number 8 to my list. I have to explain that I am probably the only person who hasn't read any Harry Potter or Trilogy of the Rings. I simply find it difficult to read fiction. That's pretty wierd but give me non-fiction any day!
Below are the awards for these brave bloggers and I look forward to more tales of their daily lives. Thank you ladies for being a safe haven in a sometimes scary world. I hope that you enjoy the awards and share these offerings of gratitude with some other deserving story tellers.
I'm going to invoke Mary's habit of tagging people. If you want to be tagged, consider yourself tagged!!!
Have a wonderful day and keep warm.