Omigosh I'm glad it's Friday. This is what rolled in yesterday morning.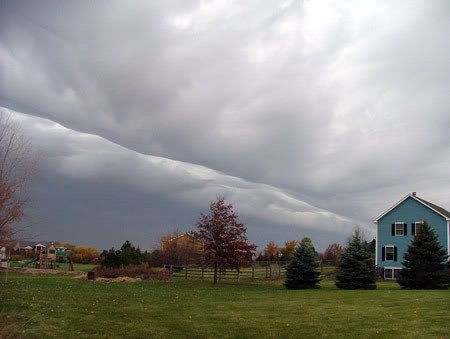 It's what's called a bell echo cloud and the rain was just behind it. I'd never heard of this until 6 months ago and now everytime I turn around there's a bell echo rolling in. Pretty dramatic looking though.
The flu also rolled into the house. The Farmer's Son got hit yesterday. It's a wierd one. You're slammed with a splitting headache followed by a terrific sore throat and fever. Shortly after the cloud rolled in it was my turn to get the flu. It's a good thing the Farmer is in South Carolina because I was in no shape to fix dinner!
It was warm on Wednesday which allowed me to complete one more task on my never-ending list. Thanks to all the suggestions from my Hen House Full O'Chicks I was able to finally decide on a color for the front door. It's called Merlot something-or-other. (Gosh, I've always wanted the job of thinking up names for paint colors.) I taped about 50 paint chips on the door and this seemed to resonate. I'm not sure that the camera accurately captured the shade. It's a darkish berry color.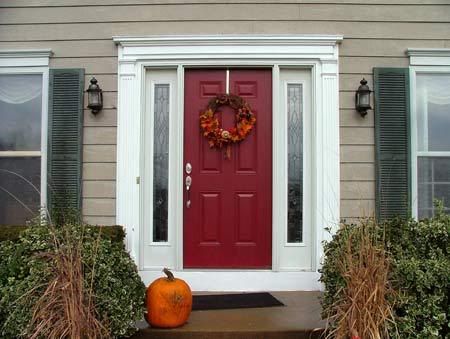 So, what do you think?
Again, many thanks for you help.
In my flu delirium my mind is churning out strange paint names.....
Petrified Pink
Minted Lamb Chop
Cold Lake
Bronzed Butterballs
Oh, enough already. I must grab my corn bag and go to bed. Corn bag? Am I that delirious you ask? NO....my corn bag arrived yesterday in a box of goodies that I won in
Lori - The Mountain Woman at Heart's
giveaway. There were so many cool things in the box. I'll tell you about them later, but honestly the corn bag is the bomb!! I'm addicted...in one day. It's like a form of rural crack cocaine, I swear. It's a nice sized bag filled with corn. It's not popcorn so no fears when you pop it into the microwave for a minute or two. The corn kernels get heated up and stay hot for almost two hours. Oh my aching neck loves this thing. Seriously, you need to ask Santa Claus for a corn bag for Christmas.
OK, now I'm leaving. Bye. I'm off to bed and setting the Blogger timer for 2 a.m. so you'll have something to read in the morning.