All manner of fabulous things are hidden in rural barns across this country. Car enthusiasts hope that their dream vehicle is hidden under burlap sacks and vines. Since rural people have rarely had any form of garbage pickup, old items are simply relegated to a corner of a barn or outbuilding.
When the granddaughter of Robert and Elizabeth Muirhead sought to restore the family farmhouse, she found the original bathroom fixtures tucked in the barn. Do you remember touring this farmhouse with me? It was designed by Frank Lloyd Wright. Yes, a Frank Lloyd Wright farmhouse!! It's not like any farmhouse you've ever seen.
RESTORING THE MUIRHEAD FARMHOUSE
THE WRIGHT STUFF - THE FARMER'S WIFE FIELD TRIP
NOTE: Muirhead House is also a Bed and Breakfast. If you're traveling through the northern Illinois area, contact Sarah and arrange for a night in this fabulous home.
But we have a mystery to solve. On a previous trip to Josie's Antiques I noticed that a nearby farmer had an ENTIRE COFFEE SHOP tucked behind one of his silos. Now, I can understand the accumulation of old cars and farm equipment, but a coffee shop? Seriously, there must be an interesting story behind that acquisition.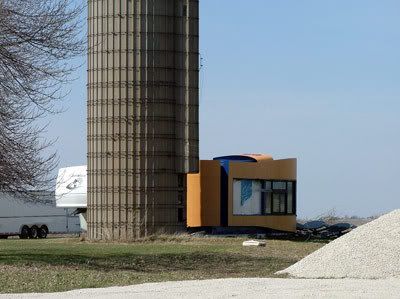 COFFEE SHOP FARMER
Imagine my total surprise when driving by the farm one day my car was stopped because an 18-wheeler was delivering ANOTHER coffee shop to the farm. This was fast becoming one interesting mystery. I promised to solve it for you, but my sister and I talked and agreed that we both prefer the mystery to the solution. Why? Because our minds can create infinitely more interesting stories than the truth.
I had an ulterior motive for visiting Josie's. Since she's a neighbor to this property I was pretty sure she's know the story. As I munched on one of her chocolate cookies she related the background to me.
The stand-alone coffee shops belong to a family member. They were a business venture that suffered in the economic downturn. Since the units are not permanent fixtures (they're like the Fotomat buildings of the past), they were simply renting the space on which they stood and had to be removed after the business closed. And so, they are being stored on the relatives property because after all, there's a whole lot of space out here.
So the mystery is solved, although I think after several cups of really strong coffee I could probably come up with something more interesting.
How about you? Can you think of an alternate solution to this mystery?