It's been forever since we've held a Monday morning staff meeting. I promise you that it's been a case of benign neglect. Things have been hopping around here during the holidays and the final party of the season is next weekend. Whew.... I'm worn out, how about you?
All I have for you this morning is leftover pizza.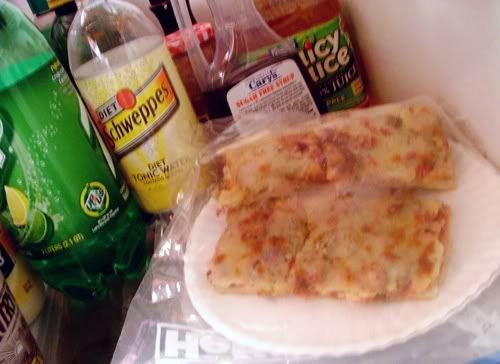 But it IS authentic Chicago pizza, guaranteed to be good hot, cold or anywhere in between. We do live at the very outer edge of the greater Chicagoland area. And I do mean outer. We are actually one of the last houses before the vast expanse of corn and soybean fields rule. That's 50 miles outside of the city. That's how large the Chicago area extends.
Just let me know if you want the pizza cold or hot. I never reheat pizza in a microwave but give it a few minutes in a very hot oven.
- - - - - - - - - - - - - - - - - - - - - - - - - - - - - - - - - - - - - - - - - - - - -
Here's the holiday recap here
At Home:
We celebrated Christmas the day after, on the 26th. My son works at a facility for disabled young adults, mostly have Cerebral Palsy. He was scheduled Christmas Eve day and Christmas and therefore we moved our celebration to Sunday. No problem.
Our traditional Christmas dinner menu includes crab cakes, steamed mussels (the Farmer is in charge of the steaming), salad, baked potatoes and thick filet mignons overnighted by our Arkansas friends from a place in Kansas City. Yeah, Kansas knows their beef. The filets are grilled over very hot coals.
We must first dig out the grill. Here's our daughter taking on the task.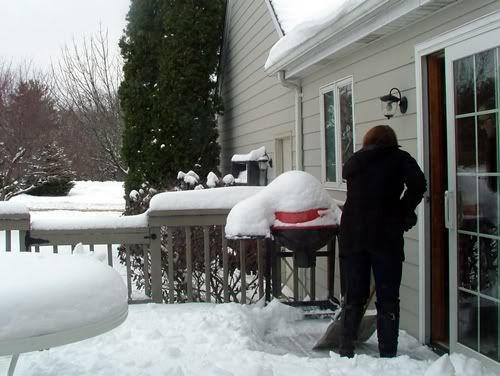 Our son always serves as Santa.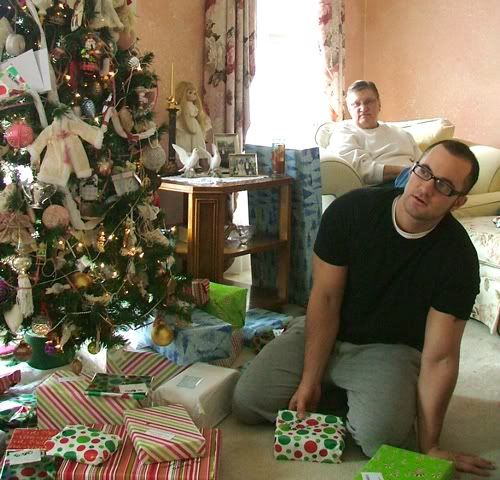 There were some great gifts under the tree. The Farmer got a new TV. Our old one is an electronic dinosaur.
My daughter and I both got E-readers! What fun we had setting them up. I had preloaded a book into hers and she started reading right away.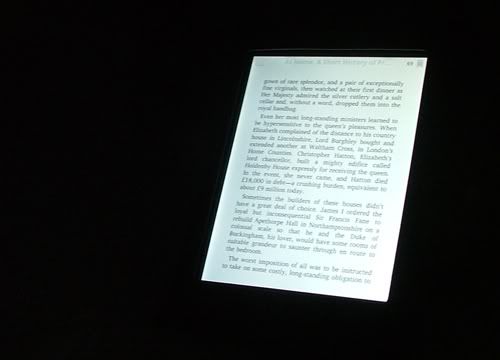 We both wondered if our eyes would rebel after reading 10 pages, but that is not the case. I was skeptical but I love the reader. It's a colored version (not Kindle or Nook but a Pandigital Novel reader). It's in partnership with Barnes and Noble and we can connect via our network and download books instantly. They also include several books for free.
Here's my digital bookshelf: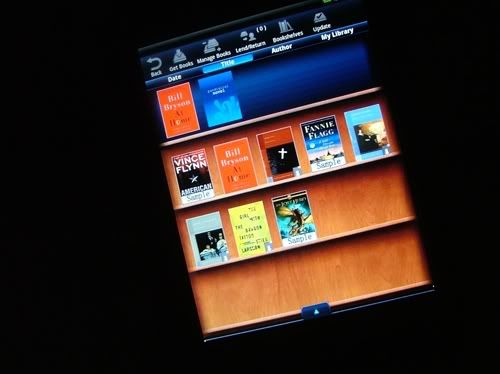 It will never, ever replace my paper and ink books but it's a fun and convenient way to carry a book. It's great at night because I no longer have to read by flashlight while the Farmer tries to sleep. It's also got a calendar, an alarm and some other features.
- - - - - - - - - - - - - - - - - - - - - - - - - - - - - - - - - - - - - - - - - - - - -
The Farmer and I went to see True Grit. I wasn't too excited about the fact that they'd remade The Duke's classic movie, but it was very, very good. It was truer to the book and truly gritty. There was lots of dry humor, I laughed alot. The Coen brothers kept their over-the-top wierdness and violence to a minimum (think Fargo and the Big Lebowski) and treated the material with loving respect.
The closing song, sung by Iris DeMent was terrific. An old gospel hymn,
Leaning on the Everlasting Arms.
OH MY GOSH.... I remember this from my childhood and Iris's voice has that wonderful southern quality. At first I thought it was Emmylou Harris but investigation revealed it was DeMent.
Listen.
- - - - - - - - - - - - - - - - - - - - - - - - - - - - - - - - - - - - - - - - - - - - -
About New Years Eve - there was no Corn Drop this year. Sigh. You can read about the Corn Drop here:
THE CORN DROPS AT MIDNIGHT
ANOTHER CORN DROP
That one is minus the videos. I have no idea where they went. The ghost in the machine, I suppose.
It's a tremendous amount of work to create such an event and we are forever grateful to neighbors Ed and Betty for providing many, many wonderful memories.
Here's a photo from 2008. Ed and Betty's niece and her husband had just moved to Chicago from Sacramento. This was their first snowfall and they danced in the snow! They recently welcomed their first child into the world.
Thanks again to Ed and Betty for those great experiences!!
- - - - - - - - - - - - - - - - - - - - - - - - - - - - - - - - - - - - - - - - - - - - -
This New Years Eve we went out to the historic Hotel Baker.
My grandmother and her friends used to drive out from Chicago to spend the evening dining and dancing. The Baker is a beautiful example of the Moorish architecture of the time.
Here's my grandmother and her friend Martha, all dolled up and sitting in the lobby of the Baker.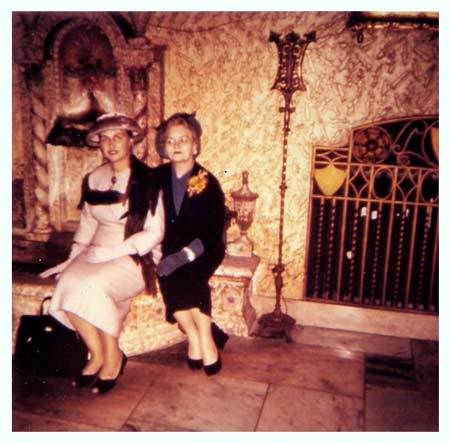 HOTEL BAKER
It's right on the river and we had a wonderful view from the dining room. The best thing was that there were people of all age groups celebrating; young, old and everything in between. The beautiful dancefloor in the Rainbow Room was packed with multi-generational party goers, all having fun and enjoying each other. One man was 90 years old if he was a day and there were young people my children's age.
There were some interesting stories from the evening. Two of our neighbors wore their tuxedos. They had purchased them several years ago and have gotten good use of them, at weddings, on cruises and other formal affairs. One of the men suddenly realized that he'd lost his cumberbund and we searched the dance floor in vain. The place was packed and the floor was littered with confetti and busted balloons. Later he discovered that in his dancing frenzy the cumberbund had simply twisted around and the wide part was acutally in the back! Not lost, just relocated.
And, I lost my bra. Well, not at the party. After all, I'd only had two gin and tonics and I was not a party animal but for two days after New Years I could not find the bra I'd worn that evening!!! Makes for a good story but in reality it was simply hiding under some other items in my lingerie drawer.
Time marches on. I hope your holiday was terrific and that you were able to keep the stress to a minimum.
I now turn the meeting over to you. What's new in your world?